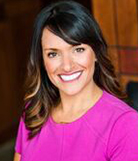 Kaitlyn Pangrazzi is a born and raised Detroit girl! She attended Western Michigan University for her schooling (Go Broncos!) where she studied Sales and Business Marketing.
After college, Kaitlyn ventured on to live in Denver, Colorado and later Chicago, Illinois where she spent six years later deciding that it was time to come home to her roots in Detroit, Michigan. Kaitlyn comes from a family of real estate professionals: her mother, a broker for 33 years, along with her brother, who has been a mortgage banker for the past 17 years. Although Kaitlyn spent her first eight years of her career in corporate sales, she knew her passion for people, housing, and lifestyle was calling her to make moves into the real estate industry.
Kaitlyn's client-focused approach pairs well with her relentless ambition to get the job done, and done well! Her ability to communicate and uncover her client's needs, while utilizing her established network and knowledge, makes her a great realtor match for clients with all budgets and backgrounds. Since working with Max Broock, Birmingham Kaitlyn has been able to collaborate with some of the best agents in the business.
In her free time, Kaitlyn stays busy working on her house, hitting the gym, and spending time with her husband, family, and friends. She loves volunteering with her local community, she's actively involved in the Ferndale Downtown Development, Humble Design of Pontiac and the Co-Chair of the Royal Oak Ambitious Millennials group. She loves exploring the various downtown areas in and around Detroit to gain a better perspective of the up and coming neighborhoods and all they may have to offer her future clients.